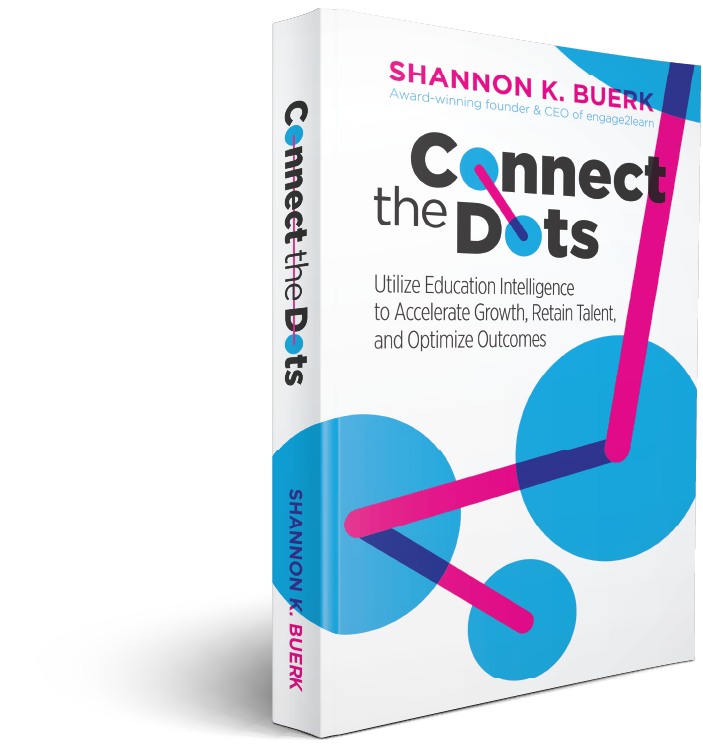 Connect the Dots
Utilize Education Intelligence to Accelerate Growth, Retain Talent, and Optimize Outcomes
By: Shannon K. Buerk
Award-winning founder & CEO of engage2learn
If you want to learn how to…
Simplify by turning 1,000 initiatives into 1 clear set of leveled competencies
Measure, analyze, and connect professional growth data to outcomes data
Efficiently scale evidence-based, individualized support across your organization
…this book is for you! 
Education Intelligence puts the power of professional growth analytics in your hands and draws a straight line to outcomes, providing actionable insights to save you time and increase the predictability and impact of your efforts. This book is the definitive playbook for making professional development relevant to the individual educator, increasing measurable ROI, accelerating student outcomes, and skyrocketing employee retention.
– From Professional Learning to Education Intelligence –
Praise for Connect the Dots
"
Connect the Dots
provides a compelling narrative detailing the power of connected data and how Education Intelligence should be at the fingertips of any leader to ensure the most high-yield decisions are possible. I'm hooked on this book."
Rex Miller
Founder, MindShift and Author of Humanizing the Education Machine
"Shannon Buerk is among the best education practitioners in this country. She shows that buttressing educator training with sustained instructional coaching optimizes both professional learning and student success."
Bob Pearlman
21st Century School & District Consultant
About Shannon K. Buerk
Educator turned entrepreneur, Shannon K. Buerk has emerged as a thought leader on educational leadership, organizational culture, and systems thinking. Due to her mission to shift the culture of public education, elevate teachers as talent, and modernize professional learning as a benefit — and her creation of a stellar culture in her own company, engage2learn — Shannon has been the recipient of numerous awards, including:
2022 Enterprising Women of the Year Award
Gold 2018 Stevie Award for Female Executive of the Year
Gold 2017 Stevie Award for Most Innovative Woman in Education for Technology
Silver 2018 Golden Bridge Award for Female Executive of the Year
Texas Governor's Small Business Award.
Shannon received her B.A. in Psychology from Schreiner University and her M.S. in Curriculum and Instruction from Portland State University. Shannon strongly believes that every human being has unique gifts that are intended to bring them fulfillment and joy and also to have a positive impact on the world around them. She lives in Austin, Texas, with her husband of 30 years. Her two adult children and their families live nearby and visit often, especially on family dinner nights.
Connect with Shannon: